I wanted to share a list of records in the Israel State Archives concerning people who were born in Kańczuga. A little background – the Israel State Archives has been going through a major digitalization effort over the last few years, and has scanned over ten million documents. Those documents have been placed online, but are not always easy to search. Some basic information is sometimes included, such as one name, usually culled from OCR software, and that means that its really hard to find documents on their site, even if it has been scanned.
Some organizations have stepped up to fix this issue, such as the Israel Genealogy Research Association (genealogy.org.il) which has volunteers indexing British Mandate marriage and divorce records, and MyHeritage, which recently indexed naturalizations records from the British Mandate period as well. In fact, due to strict privacy laws, most of the useful genealogical records are from the pre-state period.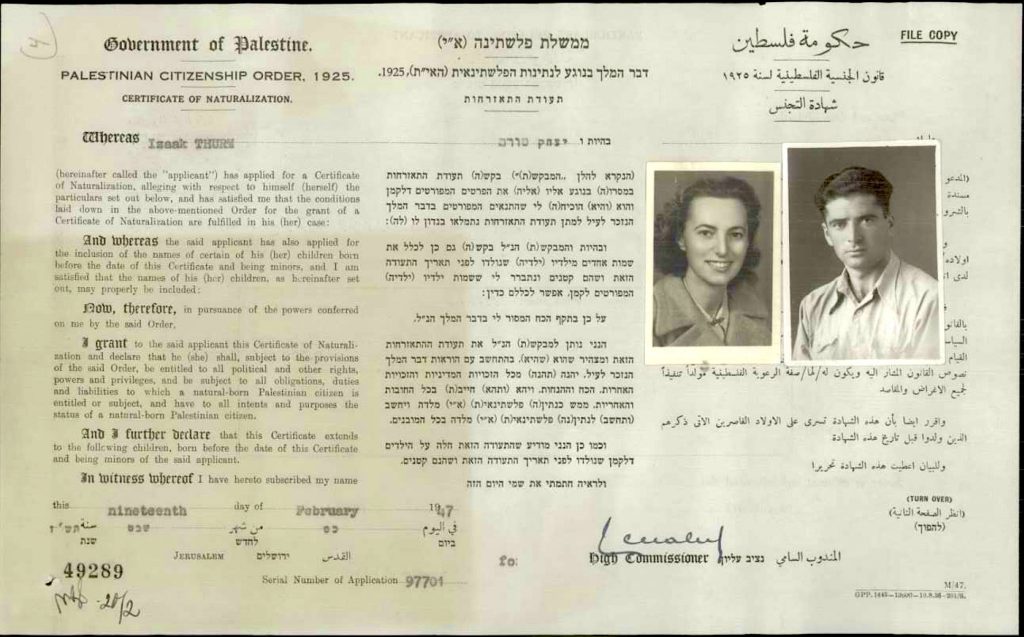 Most of the records that follow are naturalization files, although a couple which are from 1950 are copies of passports used during immigration. You can click on the link to go to the page on the Israel State Archives where the file is located, and the site will let you download a PDF of the complete file for review. I've included spouse information if it exists, and while sometimes the spouses are also from Kańczuga, that's not always the case. In files where the wife was from Kańczuga, and the husband (who the file is listed under) is not, I've listed the wife in the first column. One person (Isaak Thurm) shows up twice because it appears he naturalized twice (once when single and a second time when married). There is a lot of useful genealogical information included in these files, and I believe all of them have photos of the people mentioned.
In the future as more records are indexed, I think this list will grow. I'll check back from time to time to see if there is anything new. If you want to help index these records, you can volunteer for IGRA and their indexing efforts. More information on IGRA's indexing effort can be found on it's web site.

| First Name | Last Name | Birth Date | Spouse First Name | Spouse Last Name | Spouse Birth Date | File Date | URL |
| --- | --- | --- | --- | --- | --- | --- | --- |
| Kalman Leib | Berger | 1929-03-14 | | | | 1950-06-01 | Link |
| Nathan | Dorner | 1895 | Reisel | Weinreb | 1896 | 1947-05-09 | Link |
| Hersz | Feldman | 1906-05-04 | | | | 1950-05-29 | Link |
| Jozef | Freidwald | 1884-01-08 | Rechel | Babad | 1897-05-09 | 1944-05-29 | Link |
| Wolf Chaim | Friedman | 1899-03-15 | Serla | Thurm | 1891-12-23 | 1940-02-05 | Link |
| Tobiasz | Glanzberg | 1874 | | | | 1947-02-09 | Link |
| Moses Leib | Horowitz | 1926-08-30 | | | | 1946-02-26 | Link |
| Tauba | Labin | 1896-12-25 | Joel | Landua | 1886-06-27 | 1946-03-16 | Link |
| Westreich | Majer | 1877-05-19 | Memla | Sprung | 1876-08-19 | 1941-02-01 | Link |
| Naftali | Ryb | 1890-12-07 | Chana | Puderbentel | 1893-07-09 | 1940-03-29 | Link |
| Hersch | Ryb | 1921-07-18 | | | | 1942-08-04 | Link |
| Elka Rosa | Schargel | 1909-05-15 | Salomon | Gottleib | 1897-11-15 | 1940-01-03 | Link |
| Isaak | Thurm | 1913-10-02 | Regina | Lustgarten | 1917-10-07 | 1947-02-19 | Link |
| Isaak | Thurm | 1913-10-02 | | | | 1937-05-14 | Link |
| Jeremias | Turner | 1918-11-20 | | | | 1941-11-19 | Link |