Genealogyindexer.org, the web site created by Logan Kleinwaks, is an incredible resource for Jewish genealogy research. If you're not familiar with it, I suggest checking it out. The site offers a search engine of over 300,000 pages of books that have been scanned and placed online, including business and phone directories, yizkor books, school records, military records, etc. You can follow which new documents are added to the site by following the @gindexer twitter account.
There are hundreds of records that mention Kańczuga, and I recommend doing your own search, but I wanted to bring to everyone's attention a new document added recently, which is an undated Galicia Business Directory, probably published between 1907 and 1913. Here's the page that includes the entry on Kańczuga: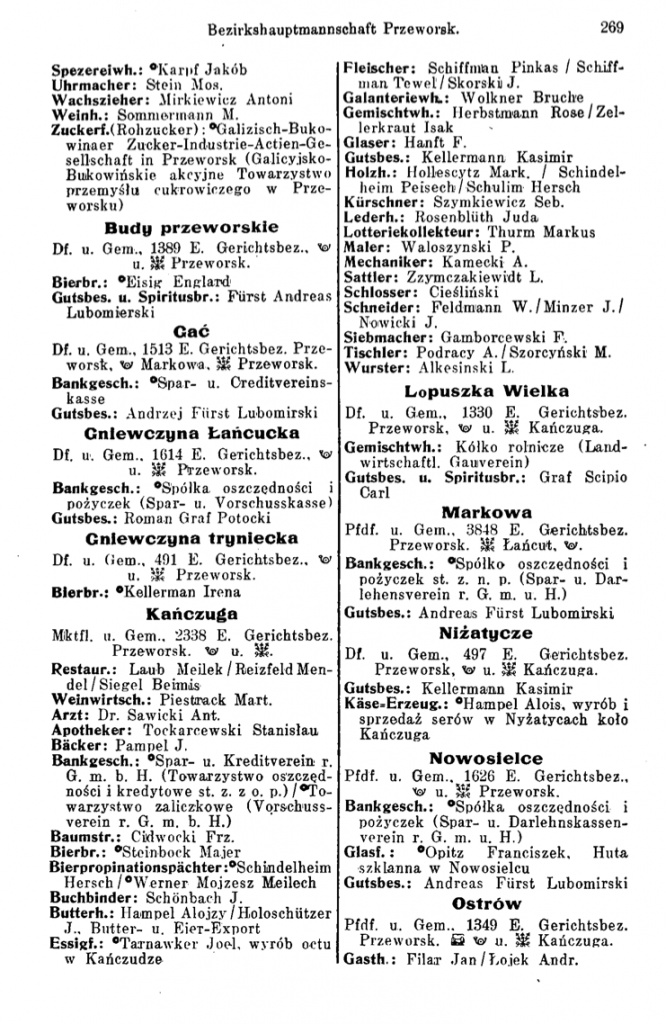 The job titles are in German. You can use Google Translate to translate them. As Markus Thurm is in my family tree, I looked up what a Lotteriekollekteur was – it's a lottery agent.
Also worth nothing is the line with a few words and the little graphics at the top of the entry. These are explained on page 7 of the full document, and it means that Kanczuga was a market town and community of 2338 people, uses the court in Przeworsk, with both a post office and a telegraph station. If you look at the other entries on the page, you'll see that it points to which towns the people went to for postal mail and for telegraph service. So even from this single page we can see that Kanczuga was the central market town for the surrounding communities, and was where many of them went for mail and telegraph service.
If you find your relative on the page, post in the comments below.